'Aladdin' will work its magic for Lisa's Fund this December and January KD Productions are kindly helping Robert Barnes and his team to raise funds and awareness for Lisa's Fund and Arthur Rank Hospice, during the run of their pantomime 'Aladdin'!
Throughout the 24-day run, from 22 December to 15 January, Lisa's Fund will have a table in the bar of The Maltings Ely providing a wonderful opportunity for pantomime-goers and families to find out more about the new Hospice and it's progress, discover more about events and initiatives they might be able to help with and donate via a collection tin should they wish. The Charity continues to work hard to raise the remaining £2.2 million required for their £10.5 million new home which opened in November.
Robert Barnes, who founded Lisa's Fund in memory of his wife and has now raised an incredible grand total of £148,500 for the Arthur Rank Hospice Charity, adds: "I'd like to say a huge thank you Kathrine, Dan and all the KD Productions team for their support – it's opportunities like this which make it possible to keep on raising funds and awareness for Arthur Rank Hospice Charity. Lisa and I experienced the Hospice's care ourselves and it was so, so very important. With the wonderful support of the local community I've been able to carry on raising the Hospice's profile and keep fundraising so that such essential care is available for more people like us, both now and into the future."
Robert Barnes and Arthur Rank Hospice Charity would like to offer a huge thank you, to Kathrine, Dan & KD Productions for their wonderful support and best wishes for a successful magic-carpet-filled run of 'Aladdin'!
For further details about the production or to buy tickets visit http://www.kdtheatre.co.uk/whats-on/aladdin.
To discover more about Lisa's Fund visit http://www.lisabarnesmemorialfund.org.uk/, or for news from Arthur Rank Hospice's new home see http://www.arhc.org.uk/the-new-hospice.asp

For further information, please contact:
Robert Barnes, Lisa's Fund
07885 087458 – lisaloulabell@yahoo.co.uk – Monday-Friday 9.00-5.00pm
OR
Dawn Easby, PR & Communications Officer, Arthur Rank Hospice Charity
01223 675875 / 07787 835140 – dawn.easby@arhc.org.uk – Monday-Friday 9.30pm–5.30pm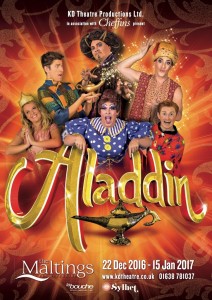 1/ Arthur Rank Hospice Charity (Registered Charity No 1133354) supports people in Cambridgeshire who are living with a life-limiting illness. Our care and services are provided free of charge to patients, to help them and their loved ones to make every moment count. We are best known for delivering vital care to over 1000 patients each year through our specialist palliative Inpatient Unit, day therapy and Hospice at Home Services. However the range of services the Charity provides is much broader comprising of the Specialist Palliative Care Home Team, the Alan Hudson Day Treatment centre in Wisbech, patient and family support (including counselling, bereavement and spiritual support), lymphoedema care, complementary therapy, transport services and small grants which collectively provide more than 2000 further appointments to patients. To supplement the NHS contribution, the Charity are required to raise £2 million annually to fund the additional services provided by the Hospice. Our professional, compassionate and practical services deliver care, counselling and education, helping patients to live well and their families to live on. Please see arhc.org.uk for further information.
2/ On 11 November 2016, doors opened to patients at our new purpose built hospice in Shelford Bottom. Our services and care are now delivered from a more spacious, attractive and therapeutic environment. The £10.5 million state-of-the-art build project has been designed with great consideration for the patient's need, whilst the vastly improved facilities allow for increased service capacity.